So in the almost-three years of this blog, I have terribly remiss in talking about picture books. I do read them all the dang time, and love many of them; I'm trying to get better at actually
recording
that I do so. Part of it, of course, is that they take so little time to read, and I generally can't generate more than a few sentences about them. From now on, though, I'm just going to periodically subject you to posts like this one, in which I post a plethora of clumsily-aligned covers and exult a bit over the charmingness of these nine stellar titles.

Dog Loves Books
, Louise Yates: The eponymous canine loves reading so much he opens a bookstore . . . and then fields requests for cups of tea and directions from people who don't even notice what a wonderful place they're in. Particularly precious for booksellers and librarians!

It's a Book
, Lane Smith: Another title custom-built to be an analog-bookseller favorite, featuring a bookish ape and a donkey who just doesn't get it--"How do you scroll down?" A great Christmas gift from my little brother's awesome girlfriend! (Oh, and there's now a board book version,
It's a Little Book
, which leans more towards the more basic "books are not for eating" lesson.)

I'd Really Like to Eat a Child,
Sylviane Donnio: An adorable, petulant baby alligator does not want to eat any more bananas, thank you--today a kid is on the menu! Provided he can find one. Spoiler: children turn out to be much, much bigger than baby alligators, who should probably nosh bananas until they're big and strong.

I Want My Hat Back
, Jon Klassen: I tell you what, I tried to handsell this book to every single person who came in looking for a picture book this past holiday season! Totally my new favorite. It's a simple tale of a bear looking for his missing red
chapeau
--and kids will adore solving the mystery before the characters do! (Oh, and the ending, in which maaaaaaybe the bear eats the culprit? I don't think a kid too young to think it's hilarious will even get it, so there.)

Children Make Terrible Pets
, Peter Brown: I just love Brown's blocky, half-saturated illustrations for this funny book and its possibly even funnier sequel,
YOU WILL BE MY FRIEND!
Both feature an enthusiastic young bear, Lucy, who (in
CMTP
) finds a little boy in the woods, brings him home and names him Squeaker, over her mother's wise protestations that children aren't suited for pethood. In
YWBMF!
, Lucy decides she needs more friends, and adopts the not-particularly-successful tactic of simply going up to various woodland critters and announcing their new BFFness in loud, uncertain terms.
Gator,
Randy Cecil: A much-appreciated surprise gift from my friend Shiraz, this is the sweet, sweet story of a carousel alligator who gets lonely when fewer and fewer people come to visit the amusement park where he lives, and sets off on adventure to find friendship and happiness--predictable but poignant.

A Penguin Story
, Antoinette Portis: Edna the little penguin has only ever seen three colors--black night, white ice, blue sea--but she's sure there must be more out there! So she packs a lunch (a nice dead fish) and sets off to find another color. Great use of a minimal palette! Also check out Portis's great first book about imaginative play,
Not a Box
.

Red Sled
, Lita Judge: An almost-wordless (but for spot-on sound effects) tale of what happens when a bunch of woodland creatures take a joyride on a little girl's sled. (And how come kids in picture books always get to live by woods full of friendly creatures? Hmpfh.)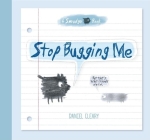 Stop Bugging Me: That's What Friends are For
, Daniel Cleary: Cleary's bare-bones illustrations are smudges and squiggles on a notebook-paper background, but they're still incredibly expressive! I loved this little story of grumpy Smudge's attempts to run a secret errand that keeps being interrupted by a coterie of friends who will not take GRUMP for an answer. (N.B. the book description claims Smudge is a dog, but he/she is
clearly
a cat I had growing up. Ol' Smudge-y. That cat hated
everybody
.)